MOLD REMOVAL
Affordable Restoration provides mold damage services for North Idaho including Coeur d'Alene, Kellogg, Sandpoint, and St. Maries.

The key to preventing mold growth is moisture control.
Affordable Restoration offers special environmental controls. Eliminating the water is key to eliminating the excess water impact, but you also want to make sure that you keep your percentage of Relative Humidity (%RH) below 55%. Maintaining a dry environment will eliminate what mold needs to grow MOISTURE. Moisture is the enemy. We currently treat mold with anti-microbial and mold away to remove all growth and prevent future growth. By using these we restore the organic material to new like state. We prevent the recurrence of mold by creating proper ventilation and airflow which is key to having a clean, dry, and comfortable living environment.
There are two environmental controls we offer. The first one is the Dry Track System. This system is ideal for levels above the crawl space.
The second system we offer is the Clean Space Vapor Barrier - installed into your crawl space, reduces moisture content and helps fight Home Allergens With the help of the barrier, you too, can live in an allergen-free home and experience the benefits of less humidity and pure air.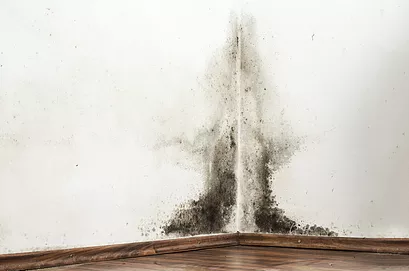 Be sure that your Sandpoint, Kellogg, or Coeur D' Alene, Idaho mold mitigation, removal, and abatement contractor have the following.
STEPS FOR A MOLD REMEDIATION OR WATER DAMAGE PROJECT
Before attempting anything, be sure you know exactly what steps to take when dealing with any restoration. Call Affordable Restoration today for an estimate (208) 699-7409. When trying to do any repair work for water damage, mold removal, fire damage, smoke removal, or construction, be sure to have a professional make sure there are no electrical hazards, dangerous CAZ zones (combustible appliance zones), dangerous carbon monoxide levels, asbestos, or lead issues.
These are just a few things to keep in mind along with many others when attempting to do any restoration work. Be sure that when you have a contractor attempt any restoration work that they follow some of those basic safety guidelines. For more safety guidelines check with the Occupational Safety and Health Administration and the Environmental Protection Agency.
If you live in Coeur d'Alene, Sandpoint, Kellogg, St, Maries, Idaho or  Spokane, Washington, then you know we can experience high humidity. Before you can get an estimate from a certified mold remediation contractor or industrial hygienist they first should identify what is causing the mold to grow. Mold needs moisture to grow so you need a specialized contractor who might have specialized equipment such as a thermal imager to seek out potential water damage. Affordable Restoration of Sandpoint, Kellogg, and Coeur D' Alene, Idaho has advanced moisture detecting meters as well as a thermal imager. When you are a hammer everything looks like a nail. We take a non destructive approach. When you have experienced mold or water damage problems it is important to do a thorough diagnosis before prescribing the cure.
When starting water damage mitigation or mold abatement, mold spores can become aerosolized. Cross contamination can become a problem when a restoration goes wrong. An inexperienced contractor can create a situation much worse than the original problem. Specialized mold remediation contractors in Spokane, Washington or Coeur D' Alene, Idaho use techniques that prevent cross contamination. You want to be sure that a proper containment barrier is installed along with negative air. Once containment has been properly set up there should also be a specialized air scrubber placed within the containment zone. Contaminants can be removed by wiping, wire brushing, soda blasting, etc… Most non porous materials can be salvaged where as porous materials such as carpet, drywall, paper, etc… should be bagged and thrown away. Some materials, paintings, or valuable documents might be salvable but can be extremely costly. Every square inch should be heap vacuumed and a thorough sporicidal wipe applied. Affordable Restoration takes it one step further and treats water damage and mold areas with a vaporized hydrogen peroxide gas. H202 is a great way to reach cracks and crevices that we can not reach with conventional tools.
Some third party inspectors take air sample, but may only require a visual inspection in order to receive a pass. Once post inspection has been completed then you should receive a document proving that your property was restored by a professional water damage or a certified mold remediation contractor. In Sandpoint, Kellog, and Coeurd Alene, Idaho, Affordable Restoration is eager to help you with your restoration needs. In  Spokane, WA mold abatement contractors will often suggest the customer use a third party for post inspection in order to receive clearance.
CSB environmental control system for basements or crawlspaces
The air in your home isn't as pure as you may think, and that's the result of one particularly pesky critter known as the dust mite. In fact, dust mite fecal matter is the number one home allergen!
​
How can you get rid of dust mites? Lower the relative humidity in your home to below 50 percent. By lowering the humidity in the air, you are removing the dust mite's water supply. They don't have to drink water, but simply absorb it from the air. If there's no moisture in the air, then there's no water for the mites.
​
Three factors are known to cause mold growth:
By using a dehumidifier in your basement or crawl space, you'll reduce or eliminate mold growth.