The Worldwide Leader In Crawl Spaces.
Basement Systems holds 24 Patents and has received 19 Innovation Prizes on products we use every day - these are the best crawl space moisture control products and systems available from a company you can trust. Basement Systems is an international company with dealers throughout the U.S., Canada, the United Kingdom, and Ireland.
​They also wrote the book on crawl space called Crawl Space Science: What to Have Done … and Why! You will receive a FREE copy of this book when we schedule your crawl space inspection and estimate. Review this crawl space book on Amazon.com
The Crawl Space Vapor Barrier
The problem with a dirt or vented concrete crawlspace is that as warm air rises in your home, it brings up with it the air that was previously in your crawl space, including moisture and mold spores, as well as anything else that may be airborne down there.
As this air rises in your home, replacement air enters from the lowest part, your crawlspace. This replacement air is made up with unconditioned outside air that enters through vents and other leaks, and air that is actually sucked from the crawlspace floor, either dirt or concrete, which is typically filled with lots of moisture. This natural upward air movement is called the "stack effect" - this is how chimneys work. Consequently, whatever is in the air at the lowest point eventually flows up into the living sections. Up to 40% of the air we breathe on the first floor of our home comes from the crawl space.
Sealing the crawl space from the earth and outside air is the solution to moisture and dampness in the home. Some contractors and homeowners will simply put down a thin, non-UV-resistant plastic liner, like a 6-mil plastic liner. This really has no effect as there's still too much opportunity for air to enter from (air is very small and can come through crawl space doors or hatches, crawl space vents, pipe penetrations, porous concrete walls,the hollow cores of blocks, and various other gaps and holes.
The CleanSpace crawl space encapsulation system includes solutions to all these challenges.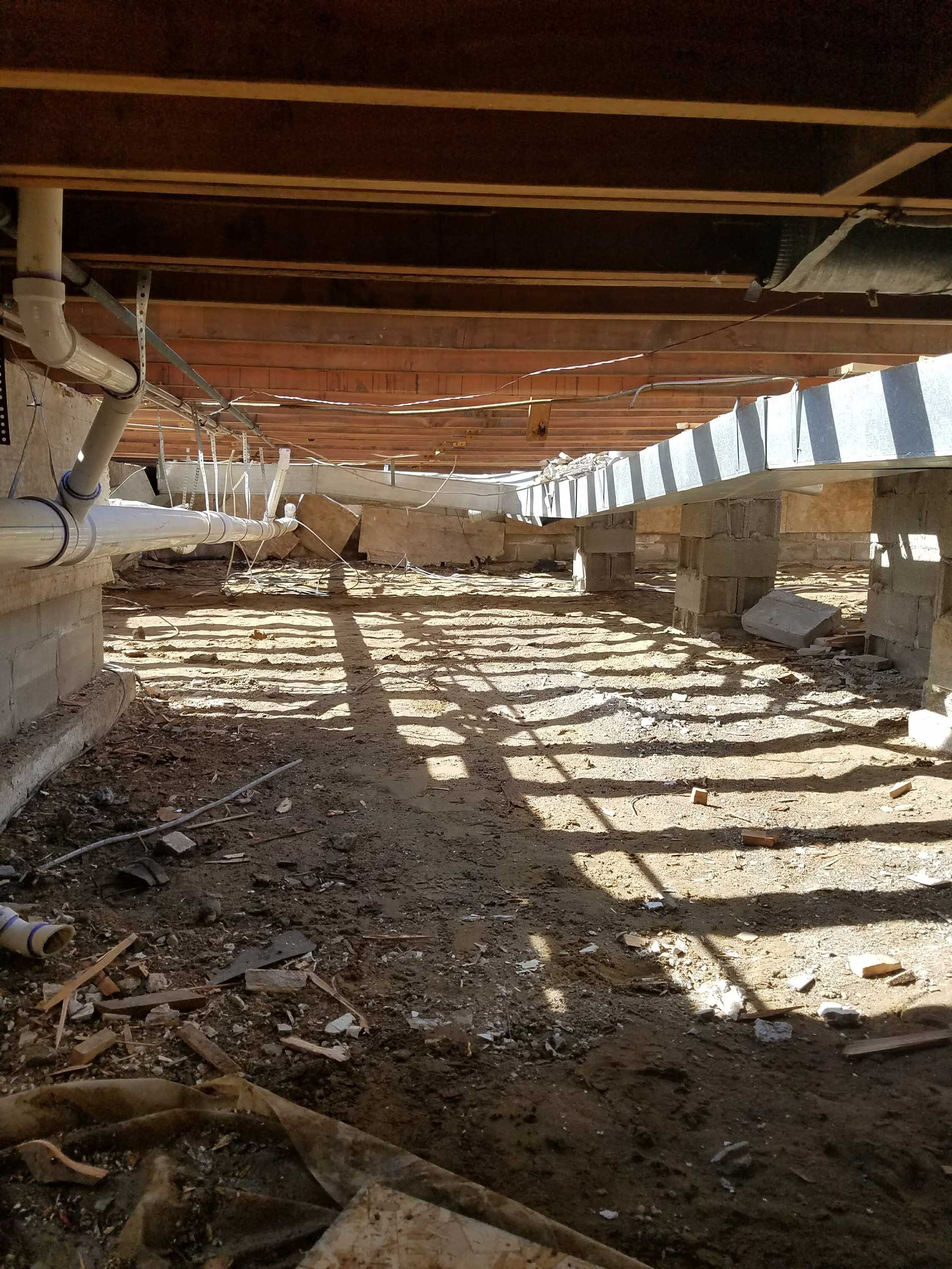 Because it's the moisture that leads to mold growth, musty odors, and structural damage, not to mention that insects and critters love moist environments and energy costs are higher. Moisture ruins houses by providing a hospitable environment for mold, fungi, and insects that destroy wood framing. Crawl space moisture, and the mold and mildew that thrive in this environment, affect not only the floor system directly above, but also the entire house.
Three things destroy organic materials in general, and wood in particular: water, heat, and ultra-violet radiation. Of these, water is by far the most damaging … and the one we can control.
Properly sealing the crawlspace and removing the moisture from the ground and air is part of the solution that helps provide a mold-free, radon-free, and insect-free environment, which leads to a more more energy-efficient and healthier home.
To avoid moisture's negative affects, a crawlspace should be completely sealed and isolated from the ground and the humid outside air. An effective method to lower crawl space humidity, tested and perfected CleanSpace is a 7-layer plastic vapor barrier throughout the U.S., Canada, the U.K., and Ireland, is now available in your area - the CleanSpace Crawlspace Encapsulation System by Basement Systems Inc. This crawlspace vapor barrier system involves installing a 20-mil 7-ply sandwich of high and low-density polyethylene with polyester-cord reinforcement on the dirt or concrete floor, that is fastened and epoxied to the walls. This extra-heavy reinforced lining is made especially for this system and is treated with an antimicrobial finish that protects against mold and mildew growth under the crawlspace liner.
Lower energy bills, resulting from reduced crawlspace humidity, translate into comfort and savings year after year. The CleanSpace crawlspace vapor barrier is tough enough for service people to crawl on and safe enough for storage. Being bright white, the CleanSpace liner really brightens a crawlspace too, making it a relatively pleasant storage place.
Many crawlspace foundations leak and many crawlspaces flood. Such crawlspaces may require a drainage system. Basement Systems has several patented sump pump systems for your peace of mind. They all feature a built-in WaterWatch sump pump alarm system to let you know if there is ever a pump or power problem before the crawlspace floods. Basement Systems' SmartSump.
Just remember that your crawlspace, although often neglected until it's too late, is one of the most important spaces in your home. It can be a spawning ground for mold, bugs, embarrassing odors, and even radon gas. The moisture generated in the crawlspace will lead to structural damage and higher energy costs! On the other hand, a clean, sealed crawlspace can be an extra source for much needed storage while making your home more energy efficient, healthy, and safe for your family.
To learn more about the CleanSpace Crawl space Encapsulation System or other innovative crawlspace solutions, contact your local CleanSpace Installer for an Estimate and Inspection. Anything outside of Spokane city limits may be subject to service call fee. You'll be thrilled at how quickly your crawlspace can be fixed with little or no disruption to your daily routine. The encapsulation system comes with a 25-year CleanSpace warranty against rips, tears & groundwater, and from having groundwater on top of the liner
Basement Waterproofing Solutions That Help Keep You Dry.
Most wet basement problems in Kellogg, ID, Sandpoint, ID, or Coeur D'Alene are caused by water collecting around the foundation and creating hydrostatic pressure. The pressure forces water through the cold joint where the wall and floor meet, and even through the cracks and pores in the concrete block walls.
​This System is a great solution for basement waterproofing for Spokane and North Idaho homes. Our system of basement waterproofing solves those problems by doing what paints, plugs, and sealers can't do. It collects the water and quietly drains it away to your sump pump, instead of trying to plug up the water problem, which never works.
Our System relieves hydrostatic pressure without jackhammers trenching through a basement floor or having to haul mud and gravel in and out of your home. Pressure is relieved in the walls by drilling holes into the concrete block cavities at floor level. The hollow baseboard design is then installed along the perimeter of the basement walls and sealed to the floor with our special Adhesive.
Hollow baseboards adhere to the floor along the wall acting as a barrier. The system collects water from the weep holes tapped into the blocks where the floor and wall meet. The water travels along the hollow baseboards to a sump pump leaving your basement clean and dry.
This system is ideal for poured wall or block wall foundations. This system is not submerged in soil that can plug sub-floor systems.
This sleek system is made in such a way that you still can finish your basement while it stays hidden behind your walls. This application is ideal for monolithic concrete slabs. No jack hammering required. When it comes to your basement waterproofing needs in Spokane, WA or Northern Idaho we have the perfect solution.
Affordable Restoration Inc keeps costs manageable by reducing the amount of dirt hauled out and rock hauled in. This versatile design allows the system to be placed on top or next to the footer. The umbrella-like side-walls prevent dirt from compacting against the sides of the system. Unlike large holes, the narrow slits throughout the main sections prevent silt and solids from entering the system allowing unrestricted flow year after year. This innovative solution collects water from the two primary sources that are responsible for basement water leakage.
First, the Drain mat collects water entering from where the wall meets the footer and then channels the water into the drain System.
Next, the system pulls water from under the concrete slab and directs both sources of water through its main sections towards your sump-pump or drain. This drain mat creates a 3/8" space between the floor and wall that collects seeping water and channels it to the drain system.
This is primarily used when you're installing the drain System on top of the footer. The water proof baseboard makes the drain system a versatile product that can be used for a range of jobs.
The water proof baseboard incorporates an above style floor system with a footer system. The multi-faceted profile of the water proof baseboard maintains rigidity and integrity while concrete is poured over the system. This unique design allows water to flow freely despite imperfections in the basement walls.
Affordable Restoration offers cracked foundation repair in North Idaho including Coeur d'Alene, Kellogg, Sandpoint, and St. Maries.